At 2010, beginning from Middle of August, we spend one month on going around several place of US.
---
After more than 11 hours¡¯ flying from China to Los Angele by airplane, we decided to try a different travling way from LA to Tucson. No airplane any more. By train is a good idea. Here is Union Station of LA.
Train from LA to Tucson.
Every passenger post his ticket (see the green paper) on the luggage rack above his seat. It¡¯s easy for the train conductor to check the ticket. Before arrival to each stop, the train conductor will remind passagers who need to get off the train.
Everything is perfect except it¡¯s too cold for us.
Looking through the windows of train.
In front of a store, peoples are singing and dancing.
During time at Tucson, we look around this city. This is the first time we visit Tucson at Summer, different scence and different feeling from what we have during show time at Winter.
Bill and Jin - We take a chance to visit Arizona State Museum.
Tucson is famous for it - The Boneyard!
AMARC - Aerospace Maintenance And Regeneration Center, is offeren referred as ¡¯The Boneyard¡¯.
Currently controlling voer 4,200 aircrafts as well as many other types of military equipments.
Restaurant
Pima County Office
At University of Arizona
Tucson Downtown
Bus Station at Downtown.
Visiting one of the biggest fleamarket of Tucson
Would you like a hot dog like this?
After days¡¯s time at Tucson, we go ahead to Denver. While running from Denver airport to downtown, the shuttle pass by Union Station.
From Denver to Burna Vista, it¡¯s a pleasant trip. Green trees, green mountains, green lake and clear rivers.
New house at Burna Vista
Buildings at downtown of Burna Vista.
Flowers along the road Early morning, mother and child is walking in the town.
Here is the show - Contin-Tail Gem and Mineral show.
Our show booth
Mr. Jin and Teddy bear.
Carolyn (show organizer) told us there was a big bear visited the show at first year.
From then on, this Teddy bear always seat here to welcome all visitors.
Lot of Rocks, Minerals, Gems, RV and big tents!
Photo for me? Welcome!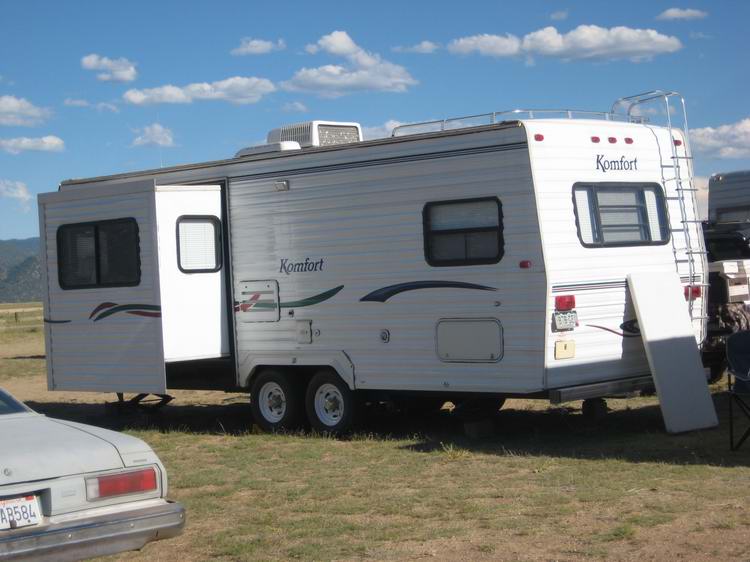 Some dealers are sleeping on RV.
Fire basket - Dealers will burn fire up on it at evening.
It¡¯s time for going back. Burna Vista¡¯ bus station is neighbor of a private airport.
On the way back to Denver.
When we back to Tucson, it¡¯s raining. Everything seems to be very quiet in raining.
Taking bus, we go to Phoenix AZ. A rainbow hang in the sky while the rain continues.
Greyhound station at Phoenix.
Cool Jack and Jin.
---
|HOME | Mineral Gallery |