It's time for Colorado Mineral & Fossil show (2011 Fall) time!
We're at Room 295 of Holidy Inn. Happy to meet new and old friends here!
At 2012, we'll move to room 287.
---
After Leaving Tucson, we have a stop at Silver City NM, then go ahead to Denver CO.
Going into mountains.
Zigzag road in mountains - Soooooo many abrupt turnings!
Mr. Jin is driving, very carefully.
Big tree in the GILA Natinal Forest.
More mountains More rocks!
A small village along the road.
Solar Cell - Sun is enough here though today it's cloudy.
RV on selling.
Out of the mountains, We have a stop at Los Vegas NM.
Good morning Mr. Eagle! Have you found a rabbit for breakfast?
Land in Colorado - The earth is greener and greener.
A rest area along I-25.
Hi Denver, here we are!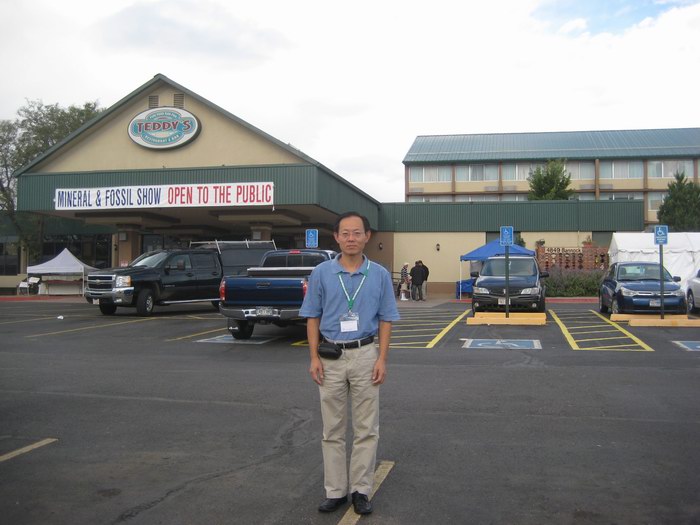 Mr. Jin at entrance of Holiday Inn
Our show room #295
A lot of materials in our show room - Fine mineral specimens & Wholesale mineral flats!
Out for lunch - Here are Mcdonald's, Pizza Hut, Tacobell... We like Pizzahut!
Fresh hot Pizza!
After one week's happy time at show, it's time to go home! See you next year - Denver!
Jin and his car
We stop at a very small town, where we meet two young students from China and have had a happy talk with these pretty girls.
Blue and clean sky, white cloud, green big tree, golden yellow flowers on green grass... Excellent sightseeing!
Back to Tucson, we have 2 days' time for shopping - hunting for the Bestbuy.
Bus Station - No. 3 is the line for Tucson to Los Angeles.
The Airplane is leaving Los Angeles - During this trip most time the airplane will fly in evening.
After 11 hours' flying, we arrived at Busan Korea. It's early morning, some early bird travelers still have a rest while waiting for next airplane. The big windows face east - a good place to see sunrise. Soon later, the big orange-red sun come out, we get the first golden sunlight!
Overlook Busan (Incheon) Airport, Korea
Back to Beijing
---
See you at Colorado Mineral & Fossil show - 2012 Fall !
We're at Room 287 of Ramada Plaza Hotel (formly Holiday Inn - Central Denver)).
Happy to meet new and old friends here!
---
|HOME | Mineral Gallery |