At September of 2011 - We get a chance to attend The Rolling Stones Gem and Mineral Show at Silver City NM.
---
Arrival at Los Angeles International Airport.
We have a short stop at Tucson. It's raining. It's said Tucson does not have too much rain at summer.
A Mcdonald's near Quality Inn (Benson highway) - It's fimilar to many dealers at Quanlity Inn.
Now it¡¯s summer. These dealers will come back on winter!
At a Ford Exclusive Agency's store at Tucson - these 2 cars are real car not model. They're elder than me!
It's time on way! Destination - Silver city.
Both Jin and the car have a rest.
Yanna said she like this Mail's House.
Go ahead!
At the entrance of the show. We're an earlybird, the 1st one this morning.
Our show booth
our show booth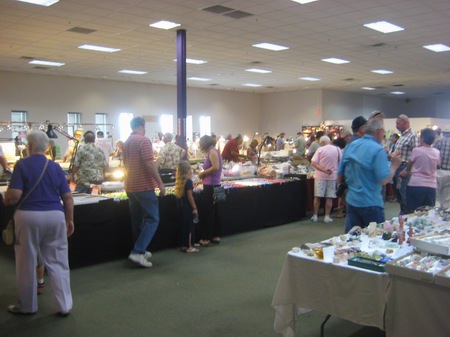 It's busy in the hall.
After show times, we go around the town.
A local restaurant - very busy!
---
After 4 days¡¯ happy time at Sivler city, we have to say bye to this beautiful town, say bye to these kind peoples here.
We hope we could be back at some days to see them!
---
|HOME | Mineral Gallery |